Conventional marine radar technology is being adapted as a tool for wave observing in coastal areas. Researchers within the Ocean Engineering Program at Oregon State University in cooperation with Imaging Science Research, Inc. have developed a high-resolution wave observation system using an X-band marine radar with a customized data acquisition system. These observation systems offer the potential for providing real-time wave information over large nearshore areas (~20 km2). We expect that remote sensing technology such as this can provide a considerable benefit at navigational entrances where wave conditions are often hazardous and highly variable and where traditional in-situ sensors are often ineffective or cannot be safely deployed.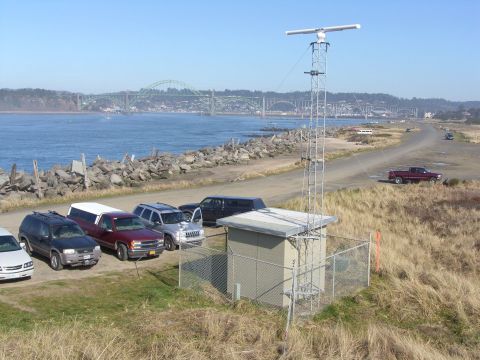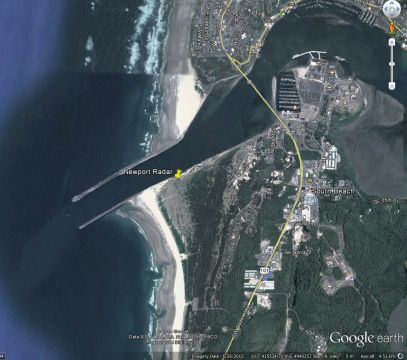 ---
Wave-averaged movie of last month
Every hour, the radar records 256 rotations (about 7 min). Each frame of the below video is a pixel-by-pixel average of a 256-rotation recording, side by side with the calculated directional spectrum from that recording.
Download: [WebM] [OGV] [MP4 (H.264)]
To examine a particular time period at a slower frame rate, consider using QuickTime or VLC Media Player. In VLC, video speed can be controlled with the [ and ] keys, and the 'e' key can be used to step through frame-by-frame.